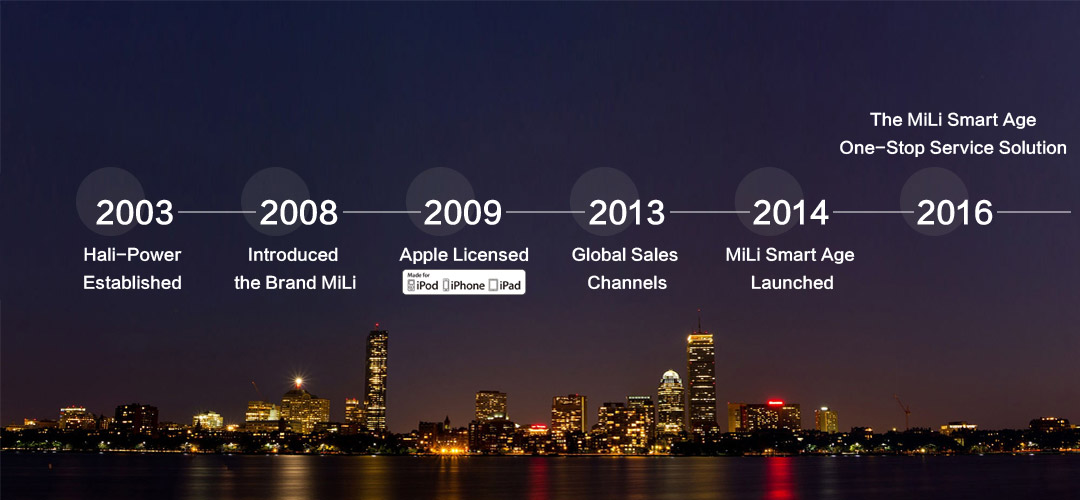 "INNOVATION DISTINGUISHES BETWEEN A LEADER AND A FOLLOWER." -Steve Jobs
1.ODM, OEM Strategy Phase (2003-2008)
In the early years after the founding in 2003, Hali-Power was an OEM/ODM for overseas trading companies.
2.Brand Strategy And Diversification Strategy Phase (2008-2013)
In 2008, Hali-Power launched its own brand MiLi. Hali-Power received authorization from Apple in 2009, before which Apple had never granted license to any factory-based private companies in China. Hali-Power became the first mover, and its brand MiLi also became an Apple authorized brand.
Shortly afterwards, MiLi launched the world's first pico projector and Apple photo printer, and was granted the Global Sources Electronics Design Award and the certification of High and New Technology Enterprise (HNTE).
Over this period, MiLi had expanded to cover 4,000 retail stores nationwide, including 95% of APR stores, and to work with over 50 agents and partners worldwide. Several of MiLi's flagship products had made an overwhelming breakthrough in their annual sales. MiLi Power Crystal had even sold more than 1 million units in a year!
3.MiLi Smart Era (2014-present)
MiLi partners with global brands such as Swarovski, Apple, Mentholatum Sunplay, Swiss line and Rolls-Royce, and has developed a number of creative smart products: MiLi iData Pro the smart flash drive, MiLi iData the smart flash drive, MiLi Pure the smart skin moisture detector and MiLi Skinmate the smart UV detector.
In 2016, MiLi proposes "one-stop MiLi smart era program" to embrace the smart era with all users around the world. MiLi's newly developed Smart Refill Bottle has also received patents in more than 20 countries - as well as high praise from users!
With longing and devotion, we always believe: distance doesn't matter as long as we are going in the right direction!