Our smartphones are getting more powerful and being used more often. But smartphone batteries drain fast. If your phone runs out of power in emergency situations, you can do nothing but watch it shut down automatically! If you're in a hurry to go out, you are going to be late for your appointments again due tothe slow charging rate of your phone! More and more users are complaining about the fast drainage of battery and frequent charging of their phones in a day.
1
QUALCOMM QC3.0 Fast-ChargingTechnology
Having to charge your phone every single day can be a nuisance. Is there a fast charging solution? Of course! QUALCOMM has already introduced one – QC3.0 fast-charging technology. QC3.0 is a newgeneration of fast charging technology that features Qualcomm's Snapdragon processor. It can refuel your devices 4 times faster than conventional charging! Twice as fast as QC1.0 and 38% more efficient than QC2.0! It is by far the fastest and most efficient charging technology in the world.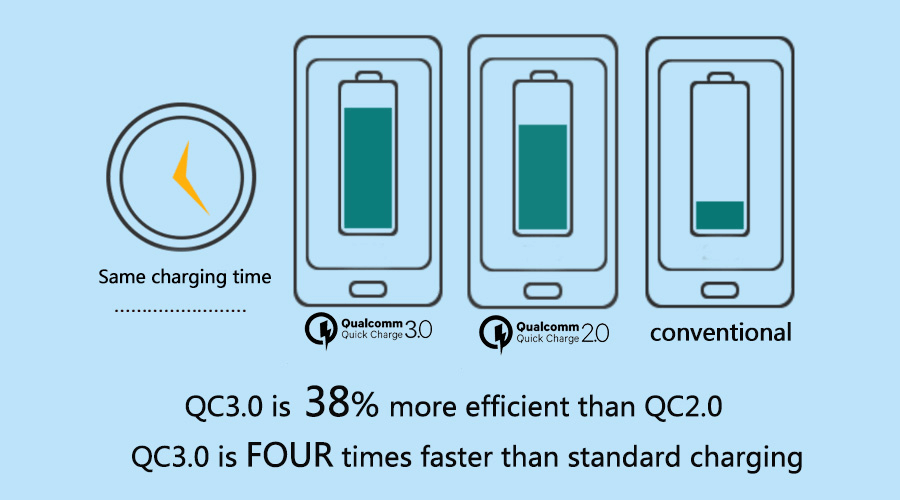 2
Why is QC3.0 solution so fast?
QC3.0employs Intelligent Negotiation for Optimum Voltage (INOV) algorithm, which provides flexibility with 200mV increments from 3.6V to 20V. It allows a mobile device to adjust to optimal voltage level supported by that specific device and maximizes efficiency. The charge time would be even shorter for mobile devices equipped with QC3.0 technology! Say goodbye to dead phone batteries! You can go out whenever you want to with full battery power!
QC3.0 is unquestionably the key feature of future smart products. There is an increasing number of mobile phones out there that are equipped with QC3.0 technology.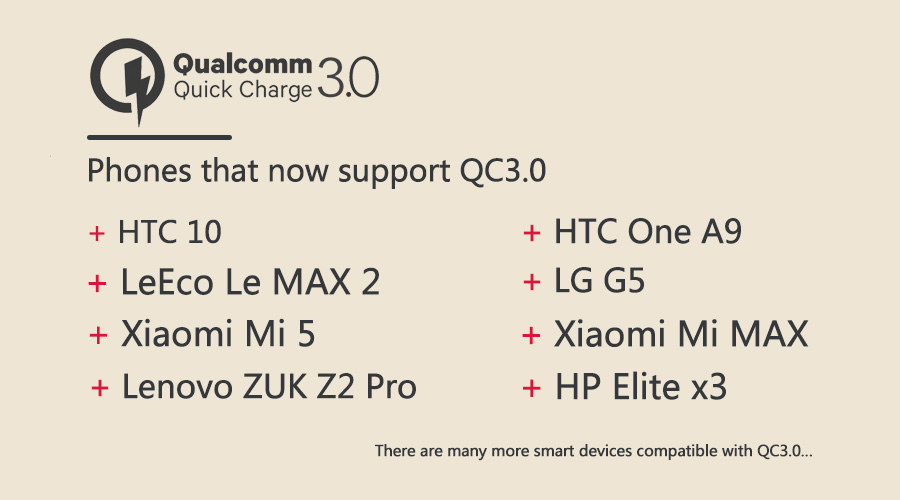 3
MiLi QC3.0 Fast-Charging Series
With forward-looking marketing strategies and powerful insights, MiLi keeps up-to-date on the most cutting-edge technologies. MiLi have now adopted the globally-known Qualcomm3.0 fast charging technology and developed QC3.0 series fast-charging products. Creating a better product experience for global consumers has always been the philosophy of MiLi.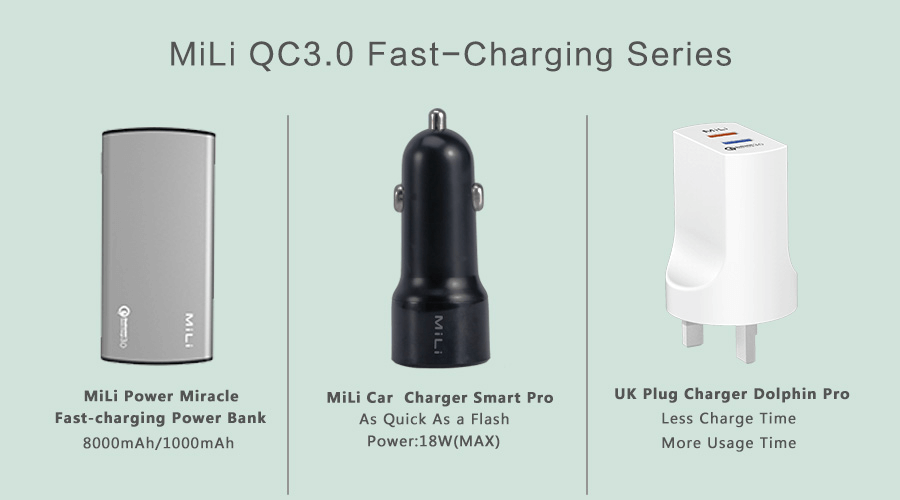 Consumers can now fully charge their phones within a shorter period of time, so that they can save more time for their own business. Let's look forward to a different collision between consumers and MiLi QC3.0 series!