MiLi Launched the World's First UV Detector Supporting HealthKit
According to the U.S. National Cancer Institute (NCI), the skin cancer incidence is 0.8% in Australia and 0.25% in the United States. The World Health Organization (WHO) has classified sunbeds and other tanning devices in their highest cancer risk category.
In 2015, MiLi launched a smart UV detector – MiLi Skinmate, which helps outdoor workers and enthusiasts to take data-based sun safety precautions, freeing them of insecurity resulted from "feeling-based" sun protection.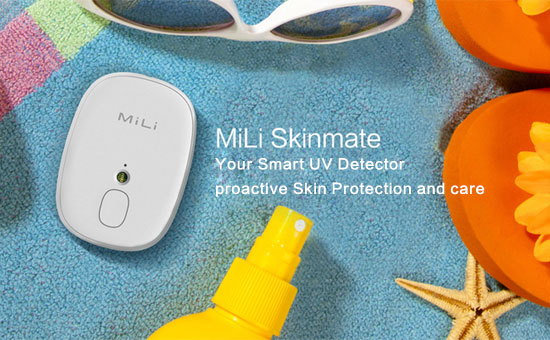 In 2016, MiLi veered off the usual track and launched the upgraded version, MiLi Skinmate+, which makes MiLi become the world's first brand to release a gadget that supports direct syncing of UV measurements with Apple's health platform, HealthKit. MiLi Skinmate+ can measure sunlight UV intensity in real-time and provide professional sun care advice anytime, anywhere. Its dedicated App can precisely monitor the effective hours of your sunscreen and remind you when to reapply the sunscreen so that you can stay away from UV harm.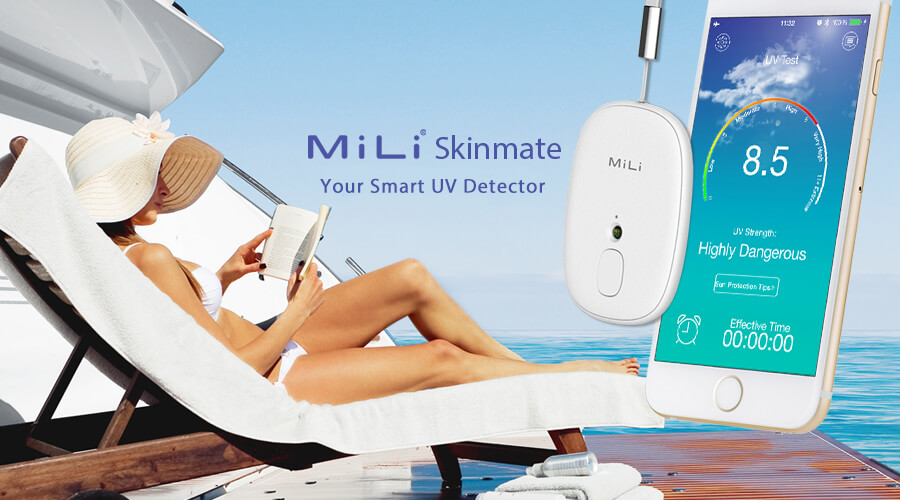 What is HealthKit?
HealthKit is a smart health platform, released by Apple in June 2014, that monitors the user's overall health. It organizes health information across seven categories including fitness, body measurements, reproductive health, medication, lab results, sleep, nutrition and vitals, providing a comprehensive view of the user's personal health data. HealthKit is also a software platform open to third-party developers. It offers data storage, integration and analysis. The user can synchronize the physical and physiological data obtained from smart hardwares into HealthKit for integration and analysis.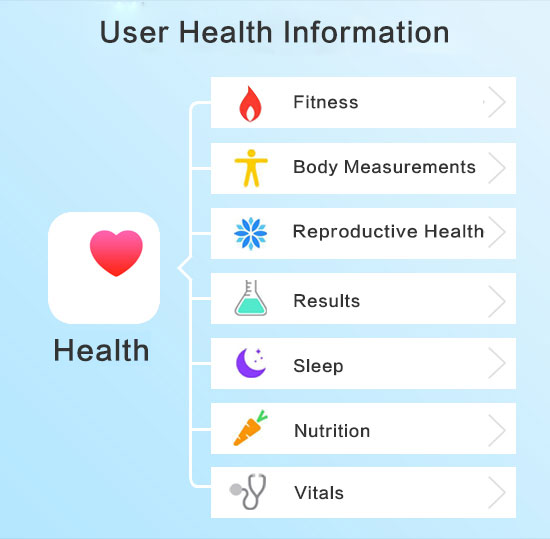 HealthKit is important for medical research
HealthKit is widely popular among medical professionals and is already being used by a number of medical centers, of which Oschner Medical Center is one of the first hospitals to join HealthKit. According to Dr Richard Milani from Oschner, HealthKit, for now, is mainly used for monitoring the incidence of chronic diseases and cancers. The collection of data in these fields will be of great significance for future medical research as it increases the depth and richness of a patient medical record.
HealthKit-integrated MiLi Skinmate+ effectively prevents skin cancers and other diseases
Not only can MiLi Skinmate+ connect with its dedicated App via wireless connection, it can also synchronize the UV measurements to Apple's HealthKit platform for integration of the UV data with all other health data. By simply opening HealthKit, you can view all health-related data and get a total picture of your health.
By recording the UV levels of your surroundings with HealthKit, you can provide your family doctor with the most straightforward environmental evidence for better protection of your health. In addition, with continuous monitoring of the UV intensities in your environment, you can take the right precautions, effectively protecting you from any major or minor conditions including skin cancer.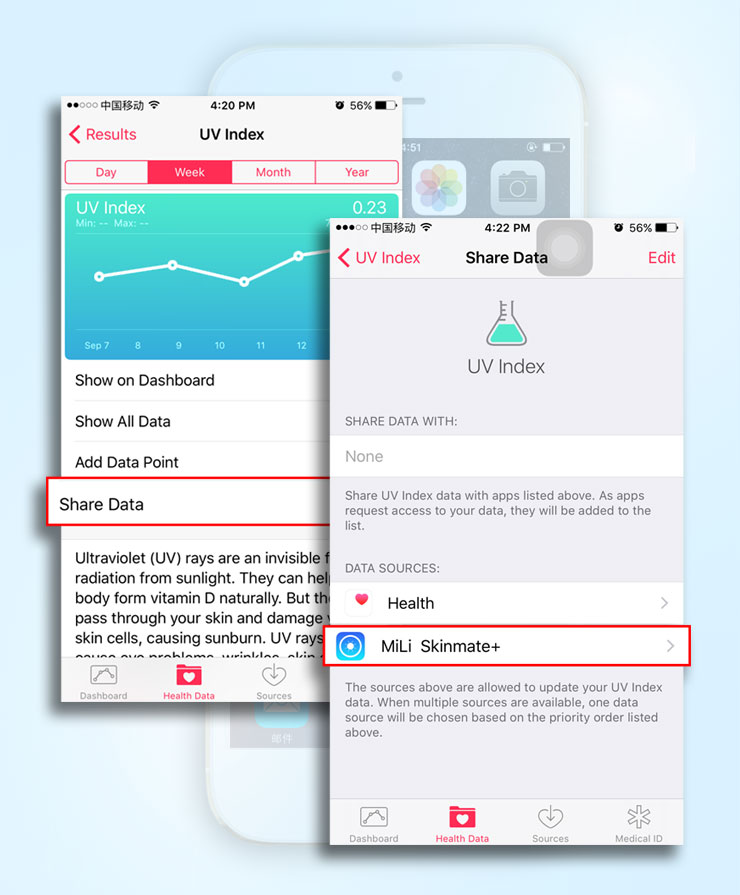 The integration of MiLi Skinmate+ with HealthKit demonstrates MiLi's undeniable expertise in the smart industry! MiLi's smart product series has also achieved great success in the domains like personal health, mobile office and personal care by delivering quality smart life to users all over the world. MiLi's research team has reportedly developed a number of innovative smart products, which will all make their debut in April or May. Can't wait to see them all!